News: There's Nothing Basic About These Starter Homes At Nada Bidara!
Nov 13, 2020
We all want a place where we can truly call home. Owning a piece of property provides the feeling of physical and emotional stability and security, which is so important in these uncertain times. 
However, many first-time homebuyers have second thoughts about taking that leap of faith, with financial worries usually taking centre stage.
They tend to hold off their purchase because they are waiting to be able to afford something better. But this is not necessarily a good strategy.
Instead of renting, REHDA advises first-time homebuyers to invest in a 'starter home' that one can afford now. This property will appreciate over time, which will help supplement the cost when you trade up to a new home in the future.
Don't worry; not all starter homes have to be basic and boring. Nada Bidara @ Gadong Jaya, Negeri Sembilan is setting the gold standard for starter homes with Tunas Residensi!
A Cosy Home Base For Your Budding Family
The freehold apartments at Tunas Residensi are pushing the boundaries of what is considered starter homes. Instead of the expected cramped, cookie-cutter units, homes at Tunas Residensi are all about breathing space and unique individuality.
All units feature three bedrooms and two bathrooms, ranging from 930 sq ft to 1,000 sq ft in size, and come with two parking spaces each.
The best part of all, there's fibre optic infrastructure provided, which will allow you to easily connect to high-speed internet. Good news indeed for those who work from home, and want to enjoy stable connectivity.
Subscribing to an open concept design philosophy, the centrepiece of each home is a large main space which flows seamlessly from kitchen to dining to living room.
This gives you the flexibility to personalise your space to your needs, and most importantly, easily change it up in the future as your family grows!
Now, balcony, or no balcony? While some may appreciate a convenient place to step outside for fresh air, others may prefer the extra indoor space. Well, the choice is yours!
Also, a tasteful combination of different window and wall finishing materials creates an 'orderly chaos' façade that will make it easy to identify your unique home.
Ground floor units are thoughtfully raised and shielded by strategically placed shrubbery for privacy. Talk about clever attention to detail!
The three blocks at Tunas Residensi top off at either seven or eight stories, delivering the low-rise, low-density exclusivity not often found among entry-level developments.
Each block exudes its own unique personality with two brightly coloured three-storey community 'sky cubes' each, with themes like fitness, reading, and play.
The developer has also ensured no expense is spared with a universal design that is flexible and comfortable for people with varying abilities at different stages of their lives. This includes disabled parking, wheelchair-friendly wide corridors (8 ft), and a kindergarten to name a few.
A Nurturing Environment For Your Wellbeing
The gated-and-guarded Tunas Residensi complex comprises of three residential blocks and one facility block, loosely arranged around a large family-friendly, car-free compound. This is the focal point of community life at Tunas Residensi: a verdant green space called the Tunas Inspo Park.
Kids and adults of all ages and abilities will be inspired here. A broad, meandering jogging trail-cum-kids play lane encircles a variety of recreational facilities including an outdoor gym, children's playground, and BBQ pit. You'll never be out of excuses to go outside every evening!
Just beyond the Tunas Residensi gates is the broader 92.5-acre Nada Bidara development. Inspired by a light, perfectly balanced paper plane, Nada Bidara has everything you need for a carefree, balanced lifestyle.
The cornerstone of Nada Bidara is the impressive 3.7-acre Bidara Lake, which does double duty as a retention pond. On the banks of this lake is a charming gazebo called The Vein, perfect for pausing to rest after a hearty lakeside jog.
Being all about balance, Nada Bidara is designed with sustainability in mind. To reduce the township's carbon footprint, it incorporates energy-efficient elements like rainwater harvesting systems, solar-powered garden lights, and paperless app-based facilities management.
And here's another clever attention to detail: electric patrol bikes to reduce fuel consumption and sound pollution!
A Strategic Location On The Cusp of Greatness
Nada Bidara is one of the key residential developments within the Malaysia Vision Valley, which has been identified as the country's next major economic growth corridor.
With a High-Tech Industrial Park as its keystone project, residing in Nada Bidara will put you in the perfect position to benefit from enhanced infrastructure, industries, employment, and business opportunities right at your doorstep.
With a home base at Nada Bidara, you don't have to go far for your everyday essentials. Sendayan Metropark, located a short drive away, is the nearest commercial centre where you can find ample retail, dining, and leisure options, including a 99speedmart.
Within a 15-kilometre range, you'll find two hypermarkets, five shopping centres, a variety of public and private medical facilities, and government offices. For emergencies, there's even a clinic within walking distance!
Those with children will be spoilt for choice when it comes to quality education, as there are no less than 20 public and private education facilities for all levels within a 20-kilometre radius of Nada Bidara.
Strategically located just outside the Greater Klang Valley, Nada Bidara is close enough to the action without getting caught up in the stifling pace of big city life. Kuala Lumpur and Putrajaya are easily accessible via major highways, and a High-Speed Rail stop has been proposed just outside Nada Bidara.
The township is especially well-placed for quick escapes. The Kuala Lumpur International Airport is just a stone's throw away, and so is Port Dickson for whenever the sun, sea, and sand beckons.
Value-For-Money Dependability Like No Other
With all these facilities and conveniences, it's hard to believe that the starting price for a home at Tunas Residensi is just RM250,000. But it's true! The monthly instalment here can be as low as RM1,000. This could be less than what you would pay in rent!
With such amazing value-for-money, it's not surprising that Block A and B of Tunas Residensi was fully sold out on lot selection day early this year. Now that Block C is open for sale, don't miss your chance.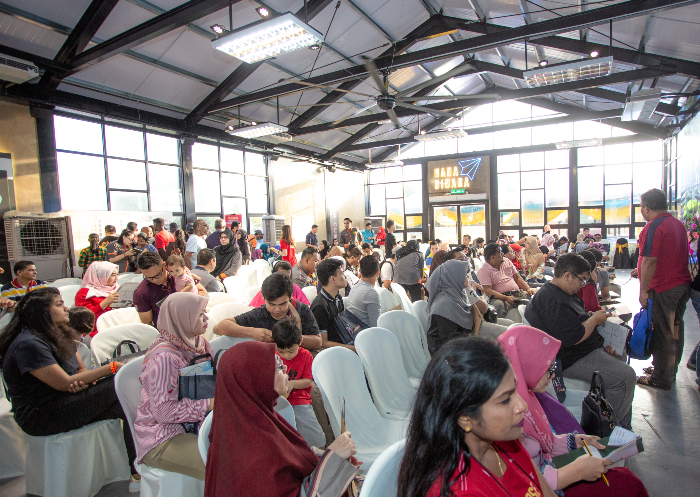 Nada Bidara is developed by Seri Pajam Development, whose notable projects include Perdana College Heights, D'Mayang Sari, Tiara Heights, Nada Alam, Citra Hill, Bandar Warisan Puteri, and Nusa Intan. You will be joining a family of more than 10,000 happy homeowners when you purchase a Seri Pajam home at Nada Bidara.
So don't wait too long to make your first residential purchase, and don't commit to a home that is way beyond your financial means either.
The trick is to find a starter home that is affordable but also chock-a-block full of value. On all these counts, you can't go wrong with Tunas Residensi at Nada Bidara!
If your interest has been piqued (as it should!), call or WhatsApp Chris at 012-6700527, or visit their official website seripajam.com.my/tunasresidensi